September 21, 2020 marked a very special occasion for TigerIT Foundation (TIF). Mainframe Labs Ltd. (MLL), one of the winners of the Bangladesh-based Tiger Challenge signed their contract on this day to become the first recipient of the investment fund for their entrepreneurial project "Online Sohopathi".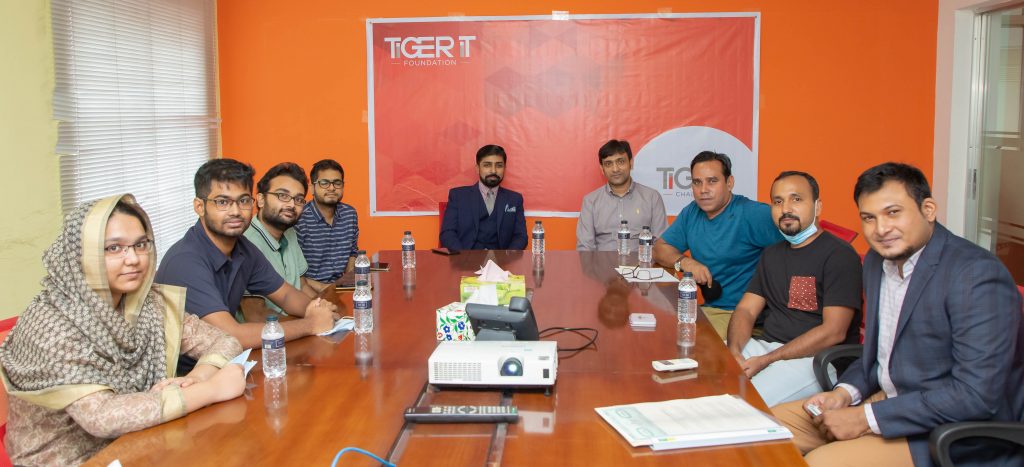 To commemorate the momentous occasion, the event was made ceremonial by the attendance of the Treasurer of TIF, who presented the Directors of MLL with the check, and by the gracious presence of the respective Heads of the Business Development and Legal and Compliance teams of TigerIT Bangladesh Ltd., of which TIF is a sister concern.
"The announcement of Online Sohopathi as one of the finalist projects in the Tiger Challenge gave us the affirmation we needed to cement our belief in our project's potential. Following that, our resolve to make the project a success has only grown stronger, and this investment will certainly assist us in making "Online Sohopathi" a big name in the field of education. I give my sincerest thanks to TIF for granting us this opportunity."

– said Shadman Majid, Chairman and CEO of Mainframe Labs Ltd. when asked to share his thoughts during the event.
A milestone in its own right, this event marks the beginning of what TIF hopes will be a successful and long-standing relationship with MLL. Opined Mr. A.H.M Rashed Sorwar, Manager of the Business Development team at TigerIT Bangladesh Ltd., "With one of its endeavors having borne such fruits, TIF and TigerIT look forward to being the harbingers of a prosperous era for the start-up community in Bangladesh."
The Tiger Challenge is an initiative by the Tiger IT Foundation and MIT Solve. Launched in 2019, the collaboration was a first for the Massachusetts Institute of Technology (MIT), as it had never before merged its flagship initiative – the MIT Solve – with any others. This unique partnership was born out of the aim to support and invest in tech initiatives that make education, healthcare, and community development services accessible to all. It is also the goal of this partnership to set up a platform where contextualized, marketable innovations are bred, and which can promote foreign investments and create quality employment opportunities in Bangladesh.