Rashedul Hasan answers 20 Questions for ICE Today's VERVE and talks about "Aficionado  – The Masterchef Tasting Menu" a unique culinary experience hosted by Chows & El Patron, two of Dhaka's most exclusive restaurants located in Banani.
Where are you from originally?
My home town is in Bikrampur, Munshiganj.
Express cooking in 3 words.
Creative Outlet.
Experiments.
Relaxing.
What is your favourite food from childhood?
My grandmother's Khichuri. The aroma of still lingers in my memories.
What is your favourite spice?
Cinnamon. I love it.
What is Passion to you?
To me, passion is putting yourself out there against all the odds. Learning what you can and doing your best without any expectations of rewards. It is very vital for one to move forward in life.
Where did your passion for cooking originate from?
Before participating in MasterChef Australia, I used to de-stress myself through cooking. I have always found it as a creative outlet. I love spending hours in the kitchen cooking for my friends and family. One day I decided to take a break from the corporate world and got myself enlisted at the MasterChef Australia Season 9 and the rest was history.
What is Fusion to you?
Fusion cuisine is something that combines elements of different culinary traditions that originate from different countries, regions, or cultures. That is the definition from Wikipedia. According to my definition, fusion cuisine is about nostalgia. I always try to incorporate the flavours, I experienced from childhood, into my creation.
What inspires you to create new dishes?
As I have already stated, nostalgia and fusion inspire me to come up with new dishes. I believe that Bangladeshi cuisines have a lot of offer. Its aromatic flavours and the alchemy of spices make its dishes stand out. I try to take those elements and incorporate them into my dishes.
How do you maintain a balance between work and passion?
By not sleeping. There are times where I have to spend less time with my family so that I can spend more time with new dishes and they understand that. I'm very lucky to have that.
What pushed you to participate in MasterChef Australia?
The corporate life I lead is very competitive and cutthroat. It's all about numbers and consistent performance. Don't get me wrong, I love my job but I needed a creative outlet. I wanted to see how people react to the food I made. With that being said, the diverse stories of participants from the previous seasons of the show are what really attracted me to participate in MasterChef Australia.
What are your 3 fondest memories from MasterChef Australia?
Talking with other contestants.
Sharing each other experiences.
Experimenting with new flavours.
Are you still in contact with them?
Absolutely! We have an online group, where we catch up from time to time.
What are you working on now?
I'm trying to come up with ways to modernise Bangladeshi cuisines. I feel like nothing new has been done with our cuisines for a long time and I'm trying to achieve something exciting with our desi flavours.
How were you involved with Aficionado?
It was a unique culinary experience hosted by Chows & El Patron, two of Dhaka's most exclusive restaurants located in Banani. It was very special to me because the Bangladeshi people got to try my food for the very first time.
How were the reactions between the Bangladeshi and Australian fans different after tasting your dishes?
When the audiences in Australia tried my food, they were new to the Bangladeshi flavours. Hence they gave positive reviews. However, when it came to the Bangladeshi crowd I was on my toes because they grew up tasting the flavours I incorporate in my dishes.
What kind of crowd would want to serve your food?
I prefer a very diverse crowd. In that way, they wouldn't know what to expect. I like to surprise my audiences with flavours they least expect from any dish.
What experiments have you been doing lately?
I have been focusing on Mitha Tukra, Kacchi Biryani and other dishes.
What is your future plan?
At one point in time, I would like to own a restaurant of my own which will represent Bangladeshi cuisines.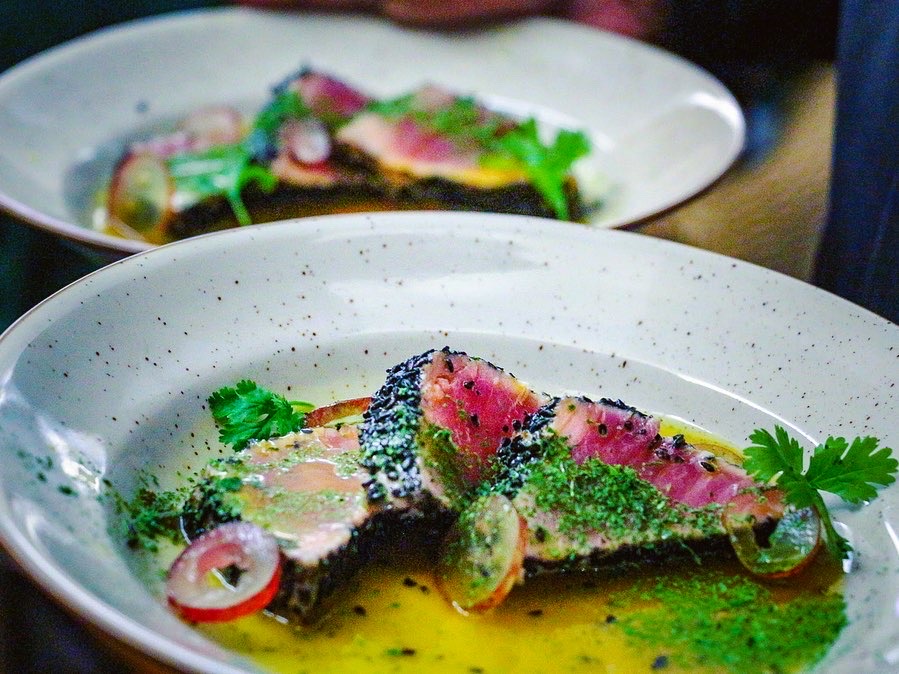 Where would you want to launch your restaurant?
Wherever the audience is ready for my food. For example, if things add up in Thailand I don't mind opening my restaurant there.
What advice would you give to the young aspiring chef of Bangladesh?
Challenge the norm. We usually find it very difficult to get out of our comfort zone. However, that also stops us from growing. In order to be creative, one must challenge the norm.