Home is where your heart is. You will feel the true essence of this statement when you visit the Penthouse Livings' showroom in Banani.
Penthouse Livings brought the very best world-famous furniture and home decor brands under one roof for the first time in Bangladesh. The new venture is readily equipped to deliver you the best home decor experience. Browsing through Pinterest pages or Instagram is not the only platform to get "inspired" for your home decor. Now, you can visit Penthouse Livings' showroom and find what best suits your personality and budget.
What sets luxury home interiors apart from ordinary home interiors, besides the budget, are the intricate details that go into each decor item. A luxury interior is a treat for the eyes with layers of visually stimulating colours, textures, and exclusivity. And through Penthouse Livings glorious home decore collection, you will experience an elegant journey.
Although the aesthetic appeal of luxury furnishings and decor is of high importance, Penthouse Livings' function still reigns as the most crucial element. Their high-quality materials and expert craftsmanship ensure extravagant furnishings which will perform as good as they look. Penthouse Livings carries the notion of luxury being defined through an individual's needs and desires.
No matter the size, everyone aspires to own a home that is not only premium and luxurious but also captures the essence of the people living in the house. But where to find that impeccable balance? For the longest time, the people of Bangladesh struggled a lot to decorate a home which carries a premium and a lavish aura.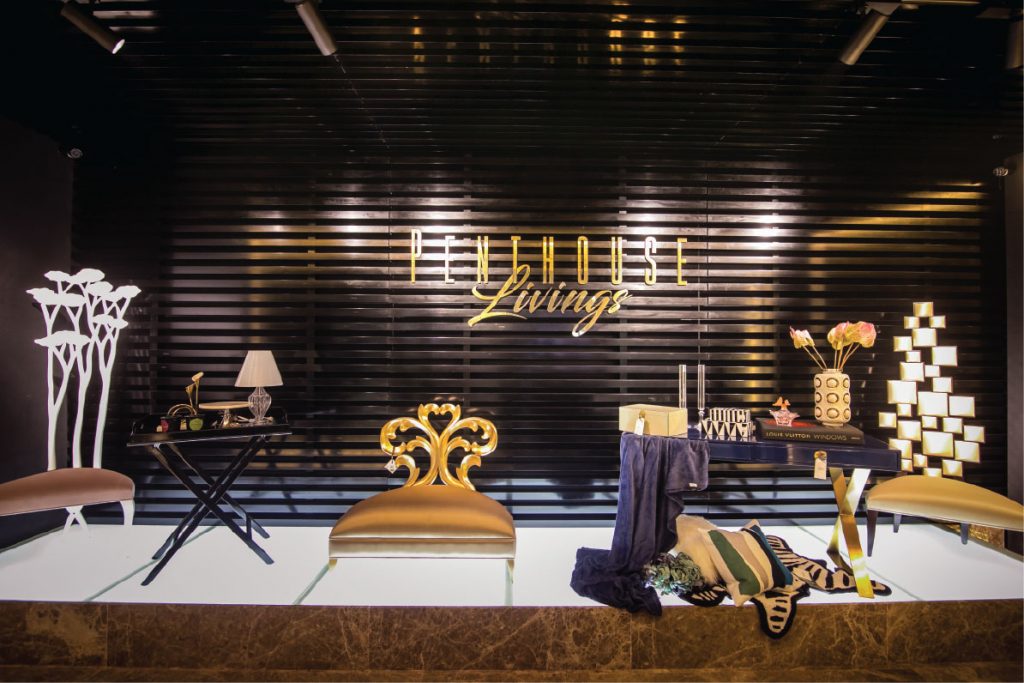 Regardless of the size, importing furniture or home decor from overseas is never an ideal option. Being aware of this ordeal, Meghna Executive Holdings has decided to bring world-class brands like BMW, APPLE, KOHLER, VITO at your doorstep.
PENTHOUSE LIVINGS CARRIES THE NOTION OF LUXURY BEING DEFINED THROUGH AN INDIVIDUAL'S NEEDS AND DESIRES.
NO MATTER THE SIZE, EVERYONE ASPIRES TO OWN A HOME THAT IS NOT ONLY PREMIUM AND LUXURIOUS BUT ALSO CAPTURES THE ESSENCE OF THE PEOPLE LIVING IN THE HOUSE.
Penthouse Livings is one of the very first brands who are bringing in all the biggest names in the home decore industry under one umbrella to make the home decore experience easier and more accessible for everyone.
Penthouse Livings is a premium lifestyle home decor store that aims to provide you with the best possible brands in the market. The idea behind Penthouse Livings is to make sure people in Bangladesh get the best quality branded products at their doorstep.
If you have been searching for something a little different from the mundane trends without going overboard, chances are, Penthouse Livings may have the right answer for you. The available home decor ideas and designs that Penthouse Livings is bringing to you is beyond the motifs and patterns that you see every day, yet it's not too gaudy or takes away the simplicity of your house.
From Italy to the U.S.A, the possibility of having the best home decor products for you at Penthouse Livings is an all-time high. That is like winning a lottery for the interior designing freaks!
They have something for everyone. If you want royal chairs for your dining room? Penthouse Livings has them. You want a simple two-layered chandelier to light up your living room? Guess who has the best chandelier collection in town?
Yeah, you guessed it right. Penthouse Livings is the treasure chest for you. So if you are interested in home decor and want to get a glimpse of what latest trends are in now, then do visit Penthouse Livings' showroom in Banani today. We guarantee it's going to be an experience to cherish.