Tawhidur Rashid converses with the Mehruz Munir about his upcoming Spring Summer 2019 collection.
You just said you want to come out of your comfort zone, what is your comfort zone?
To me, the comfort zone is doing the same thing over and over again. My first collection was predominantly black, therefore there was a perception that it is my signature. I do not like to be given labels. That is why I have picked a completely new approach this time which I am not really known for. Also, my previous collections had a lot of suits. The upcoming one is not entirely about suits anymore. I am trying to build a wider range of garments and do things I haven't done before.
I have a question regarding your last show. Comments have included that "it was metrosexual to the next level" and "provocative". Was it intentional?
It was definitely intentional. My last collection was inspired by free love, gay rights movement, women empowerment and the sudden sexual freedom everyone experienced in the 70s. It was an important part of everyone's life. I wanted to showcase that through my collection. There were a lot of provocative outfits. Women's clothes were revealing, showing lots of decolletages. Some of the men's clothes were gender-fluid in nature and sexually provocative. I am really happy that people took notice although probably in a negative way.
What would you describe as negative? Did it affect your business?
Not at all. Negative because some really did miss the whole point and misunderstood my intention. I expect people to understand where I am drawing my inspiration from… It's negative when they fail to do so. But to be honest, I am kind of used to that. Fashion shows in Bangladesh are still a relatively new concept, and people are still getting used to the idea that a runway show is meant to be more about exhibiting a designer's creativity.
Most people have enjoyed the show not only because of the clothes but also for the environment that we were able to create.
You talked about the 70s being the inspiration behind your last show. What is the inspiration behind this one?
I will not be able to give you a complete answer right now as we are still working on it. What I can tell you is the collection is inspired by My love for Dhaka City. I have been taking inspiration from cities outside Bangladesh in my previous collections. I want to do something that says "Dhaka" straightaway. We are using a lot of hand painting and local craftsmanship. We are using local artists who do not get recognition anymore and combining their hard work and creativity with my contemporary silhouettes and aesthetics.
Are these only for suits?
I am planning on fifty to sixty looks, which includes both genders. They will not be limited to suits. We will also have tops, pants, dresses, gowns, suits, jackets, etc.
Are these mostly for men, what is the ratio?
It's mostly for men. In my previous collections, greater proportions of the designs were for men. If I have to put it in numbers, around forty out of sixty from a collection usually are for men. It is no different this time.
Is there any particular kind of fabric you really like?
For men's wear, I really like the traditional woolen fabric used for making suits. For women's wear, I use a lot of silk.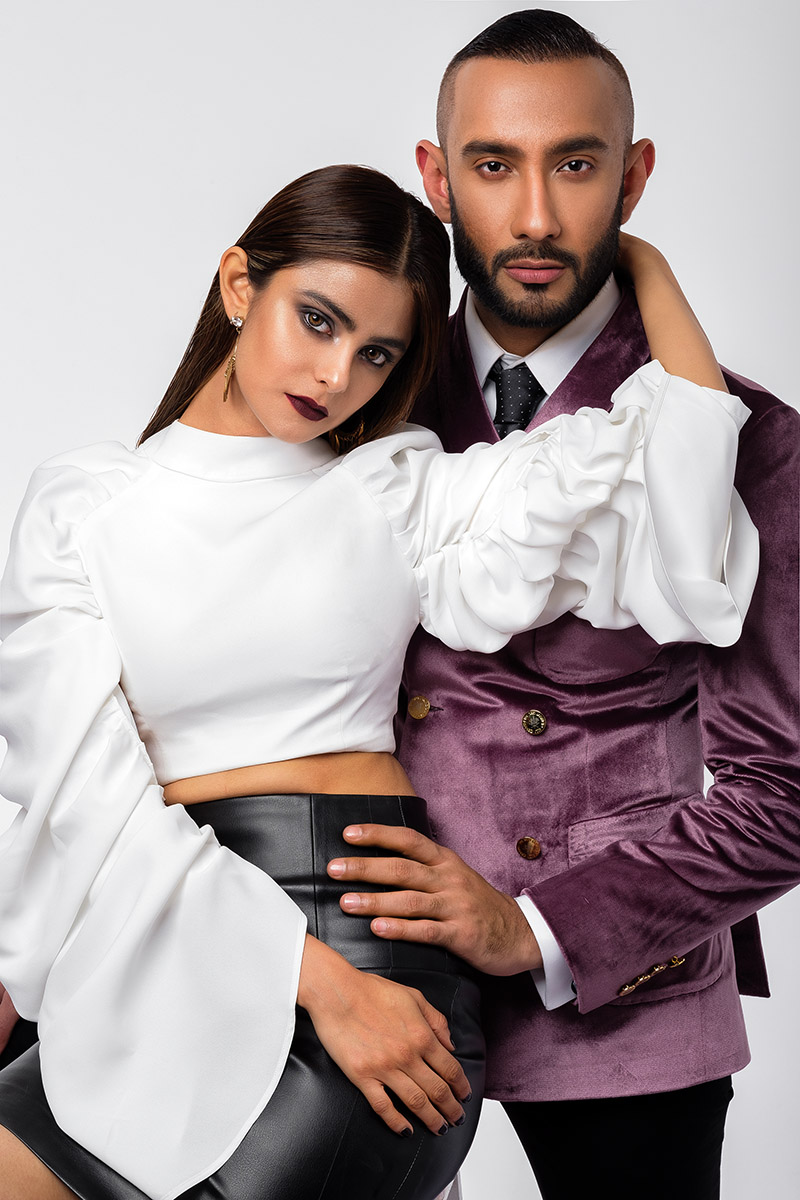 Where do you draw inspiration from? Is there any particular thing that provokes your creativity?
Yes, definitely. One of the most important tools that I use while I am in the design process is music. Music gives me ideas. If I am listening to music that makes me happy, the designs will often be bright and cheerful. I would also say traveling helps a lot when I am designing. I get to travel pretty frequently… About six to eight times a year. I go to different cities, I get to experience different cultures and culinary. I pick different things from different places and it really does help me creating something new from time to time.
What genre of music do you prefer to listen to most?
I listen to all kinds of music. If I have to pick one, I'll say deep house. It gives me a lot of energy and helps me be more focused.
Do you have a favorite city?
Paris is my most favorite city in the world. Every time I go there, I really feel the romantic vibe. There are so much art and culture in that city. I go to a lot of galleries and museums, and I get to see a lot of artwork and historic pieces from different parts of the world. I also like Vienna, because of the same reason.
Is there any particular designer you seek inspiration from?
Initially, I was really inspired by Tom Ford but I am trying not to look at other people's work anymore. Instead, I focus on what I am all about. I think as soon as you look at another person's work, you lose your point of direction. It gets a little blurred. But if you really ask me, one of my favorite designers of all time is Raf Simons. I like his work because he has a very fresh take on fashion. When he entered Dior as the Creative Director, it was a very feminine brand that did not offer much in terms of innovation. He kept all of the things that made Dior the brand we all love but was also able to transform it into an amazing brand that suddenly has a lot of edges. On the other hand, his work in Calvin Klein was a bit of disappointment in my opinion. Another favorite designer of mine is Dries Van Noten. I think also has a very fresh take on fashion and is known to constantly push the envelope when it comes to fashion.
From a physiological point of view, I can understand you are influenced by the freshness and someone's approach to fashion. As a designer, it's more relatable to you.
Yes. I also really like the fact that they are constantly trying to challenge a certain notion. I try to do that too in my own way. I am constantly trying to challenge myself and everyone involved in the company to think out of the box and do something new every time.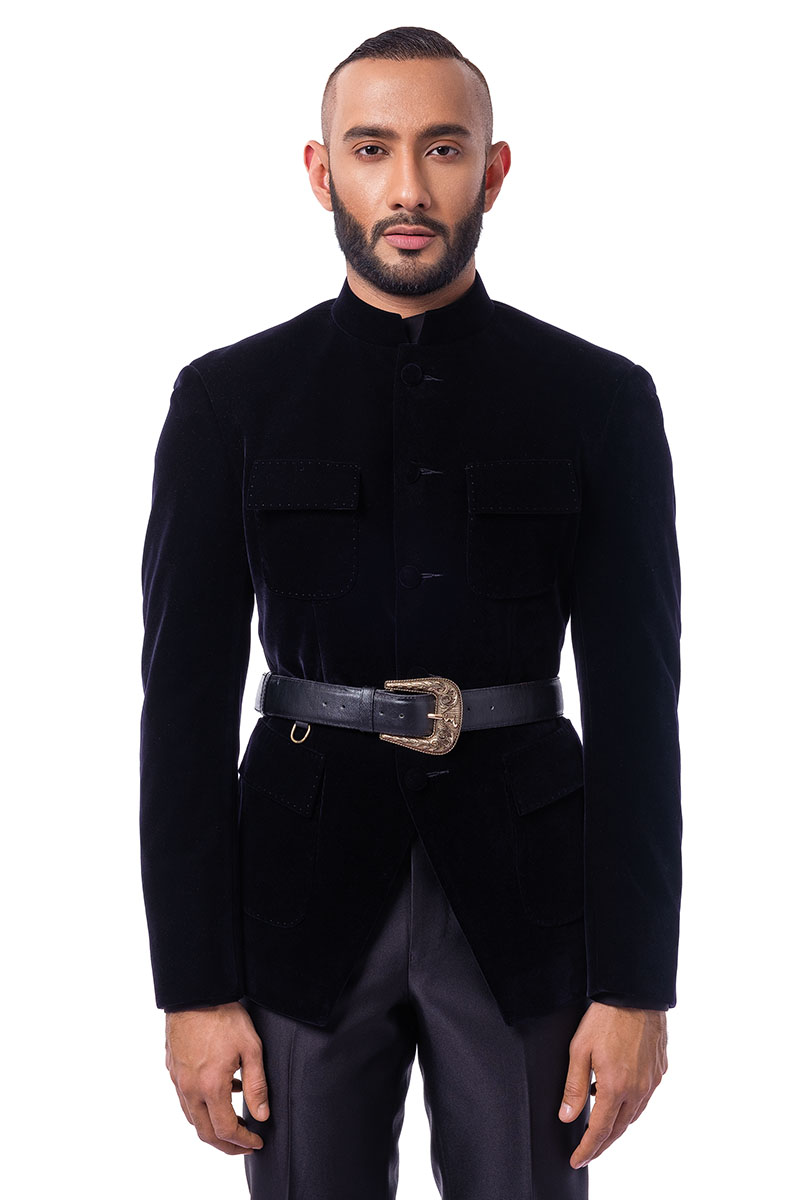 Have you ever experienced "designers block"?
It happens to everyone in the industry. I think I experience it more than any designer in the country. While working on my last collection, I experienced a block for four months that set my team in a panic mode. In my opinion, once you come up with one design or even a small idea, things start to fall in place, and you can eventually develop a whole collection out of that.
Have you ever tried to push yourself because you had to meet the deadline?
I think I suffer from the creative block when I try to look at other people's work. I overcome it simply by not looking anymore. I have not been following recent fashion events or any trends that might be popular now on Instagram or what not. I personally have been managing creative block by doing just that. I also arrange short getaways for myself. For example, I will often run off to India or Thailand when I need a quick fix to deal with a block. It really does help me to come back with a fresh mind.
In our country, we do not have a very informed audience about fashion. Do you think if you were from a different country, you would have been appreciated more?
Sometimes I do. But I would rather be a pioneer in my country rather than one of a hundred somewhere else. Even though the audience here is not as well educated in fashion right now, it is definitely going to change in the future. Maybe I'll be appreciated a little more in ten years and recognized as someone who tried to bring a change in Bangladesh's fashion scene… Or maybe I won't! It's better if I take this chance and find out in ten years.
When are you planning to retire?
To be honest I am turning thirty next month. I believe fashion comes to you more naturally when you are younger. With age and working in the industry tirelessly season after season, you tend to get trapped in a box. I would rather hand it down to someone younger and able when I know I am no longer able to stay relevant.
Where do you see the brand Zurhem ten years down the line?
I really hope to see Zurhem in other parts of the world. I want to see the brand represent Bangladesh on a global platform. Our country is known for cheap labor, fast fashion and sweatshops. I want to change that mindset. Zurhem will tell the world that Bangladesh can also produce high fashion products.
Bangladesh is producing a lot of billionaires. They go abroad to shop. With that in mind, do you think Zurhem's branding has been subtle?
From the beginning, we have been trying not to look too desperate. Our target market is very niche. I feel like if we put ourselves out there too much, customers will lose interest. I think we are going the right way in terms of marketing. Maintaining the exclusivity and the elite "secret club" vibe really does help keep the brand cool and relevant. We may not have a lot of campaigns every year. But we are constantly interacting with our clients through fashion shows, parties, and dinners. Because of that, we have a very personal relationship with our current and potential customers.
Last question, what is your new year's resolution?
Every year, I have a new resolution. Last year, it was about taking care of my health and being more fit. I haven't really decided it yet but I have been saying that 2019 is going to be Zurhem's year. 2019 is going to be the year of our company and everything we do to go forward. Zurhem is the mother brand but we are planning other brands under this company. We have plans for a clothing brand for a wider audience. It will be more affordable but it will have the same DNA. We are also going to start a project where we will give retailers a platform to grow both online and offline.
Are there any plans for international collaboration? Is there a strategy in place?
There are lots of things I want to do. But I do not take this as a strategy. Every recognition that we have received internationally have really come to us by themselves. I am kind of conflicted whether to start reaching out to them. But let's see how it goes. There are offers on the table from international platforms, we are still evaluating them.