Seine River in Paris was stunningly lit up by an artistic celebration of fashion, beauty, and women empowerment at the 7th Anniversary of Jessica Minh Anh's "Catwalk on Water" series. The multi-talented fashion show producer created an illusion of models walking on water, using a giant glass boat and clever catwalk setup. As a result, Paris' architectural wonders became a natural backdrop for an all-female designer showcase. Premiering 7 innovative fashion collections, Jessica Minh Anh's Autumn Fashion Show 2018 successfully promoted a new wave of entrepreneurial fashionable women, who are taking the world by storm.
Against the cinematic backdrop, Jessica Minh Anh opened the show as a warrior princess in an exquisite red haute couture dress. With her hair perfectly breaded in a crown shape and her long extravagant cape, the exotic beauty appeared royalty, while introducing the latest collection by top Peruvian artist Ani Alvarez Calderon. The impressive first look was greatly enhanced with red and pink stingray choker and bracelets by French luxury house De Galluchat. Following Jessica Minh Anh was a dazzling model line-up all wearing Ani's uniquely cut and layered designs. Influenced by Peruvian rich culture, Ani's collection boasted innovative craftsmanship and technological fabric manipulation technique.
Adding drama and sophistication to the grand catwalk, Bangladeshi Haute couturier Zoan Ash by Sultana A showcased a heavily embellished and hand-beaded collection inspired by royal warriors. Mixing deep red and black with royal blue and beige, the creator brought out a sense of confidence and individuality in each design. The signature look, worn by Jessica Minh Anh, included one half of a military velvet jacket and another half of an elegant royal gown completed with a distinctive jewel crown and sword. Bold and daring expression was combined with feminine motifs, which effectively triggered the allure.
The third collection, Jessica Minh Anh X COCOSIN, presented Jessica as a triple threat with the supermodel cum catwalk producer took her new role as a fashion designer. Influenced by Jessica's very own Parisian lifestyle, the youthful ready-to-wear collection included military blazers, trench coats, midi dresses, and pleated skirts. A combination of khaki, chiffon, and lace was used to portray a modern vibrant woman who is highly adaptable and efficient yet always stylishly chic and intriguing. Named "Girls Run the World", the collection is a refreshing take on the fast-paced and ever-changing millennial lifestyle.
Next, luxury handbag brand Nuriyah premiered a boho-luxe collection inspired by the Ottoman and ancient Islamic heritage mixed with South Asian culture. Handcrafted by women artisans in Turkey, Afghanistan, and India, the unique pieces are work of art which exuded plenty of love and emotions. Utilising color palettes such as emerald green, turquoise, gold, purple and crimson, each bag visually took audience across the continents with a modern flair while staying true to the richness of ancient traditions. Nuriyah bags were accompanied by a modernized kimono collection from Japanese legendary designer and Jessica Minh Anh's longtime collaborator Yumi Katsura. Called "Yumi Yuzen", the light silky dresses celebrated Japanese famous dyeing technique with a touch of softness.
Closing Jessica Minh Anh's iconic catwalk with class and elegance, Arabian powerhouse Atelier Zuhra presented a timeless collection, which illuminated lights and enhanced beauty. Inspired by Swan Princess of the art of Mosaic, the color palettes included white for purity, grey to portray formality and sophistication, blue to represent the sky and the sea, pink for love and passion, and silver as a mirror to the soul. The outstanding haute couture dresses, which were made of tulle, lace, crane, and embroidered fabrics, exuded femininity and mystics. Saving the best for last, Jessica Minh Anh appeared as a vision in a breath-taking silvery structured dress made of thousands of shining mirrors. The impressive masterpiece of intricate craftsmanship accentuated Jessica's perfect curves with a classic silhouette. Captivating and inspiring, Atelier Zuhra's designs beautifully ended the phenomenal catwalk.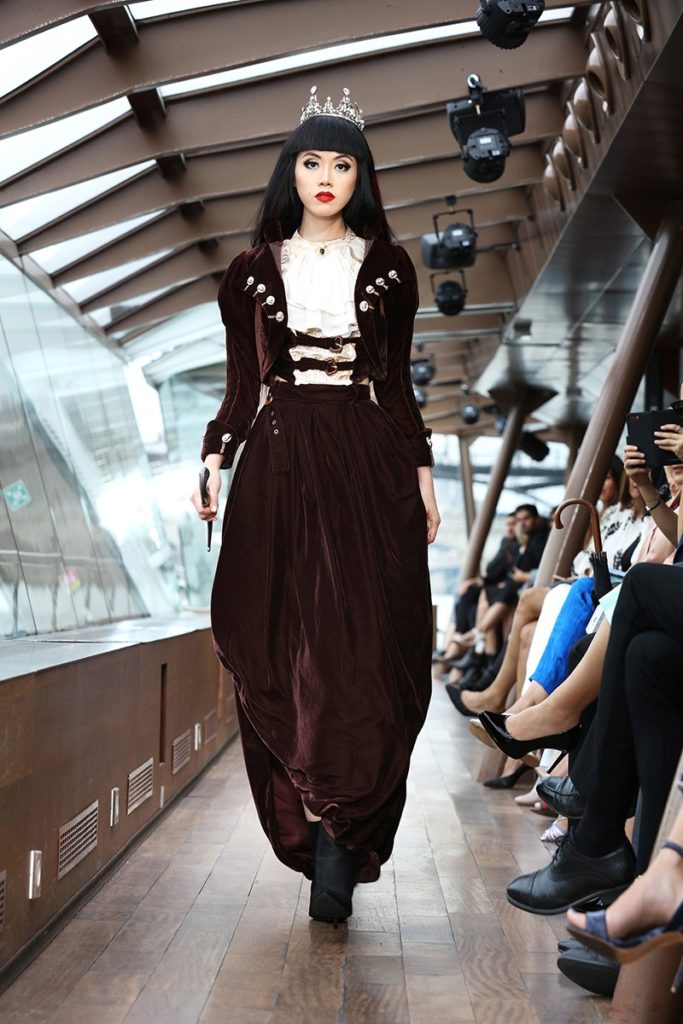 Jessica Minh Anh's 7th "Catwalk on Water" was supported by Compagnie des Bateaux Mouches, Sofitel Paris Le Faubourg, BRONCOLOR, Swarovski, Maison Astor Paris, SteamOne France, Hotel Paris Vaugirard, Bustronome, The Print Inn, and Before Bar. The young entrepreneur, who represents a new generation of self-made women in the creative industry, is set to expand her remarkable portfolio into television on a major network with a documentary series about her extraordinary journey around the world. If her past achievements of historic productions on the Eiffel Tower and Grand Canyon Skywalk are anything to go by, there is no single doubt that Jessica Minh Anh will continue to amaze and charm the world with her creativity and boldness.