---
IN CONVERSATION WITH THE TRENDSETTING FASHION DESIGNER, SAMI ALAM WHOSE RECENT TWO-PART COLLECTION, MADE IN BANGLADESH LEFT THE FRENCH AUDIENCE MESMERISED
---
In October this year, the elegance of the Opera Ballroom at InterContinental Paris le Grand in Paris was elevated further by the enchanting mastery of Bangladeshi craftsmanship as the fashion maestro, Sami Alam, curated a two-part tale on the runway where he literally took Bangladesh to Paris. The intriguing part of the spectacle, Made in Bangladesh, was how convincingly it blended the rich legacy of Bangladeshi clothing with the finesse of French fashion.
The event showcased Bangladeshi models and fabrics, surrounded by the historic 19th century ambience of the Opera Ballroom, which echoed the legendary flair of the place.
We caught up with Sami Alam, who shares his mesmerising experience of the event and his work.
HOW WAS YOUR EXPERIENCE OF CURATING THIS SHOW THAT REPRESENTED BANGLADESH TO THE WORLD?
As an artist, curation is a hard job because you have to create the magic by translating your creative thoughts in terms of art, storytelling, visualisation, connecting people, and at the same time, you have to also practically manage time, the action plan, possibilities, capacity, finance and people. On top of that, as it was an international event where I would be representing the fashion in our country to a city like Paris with people from both countries working in your team and limited time. So, you can perhaps imagine how puzzling it was at times, but that is the zest of the journey – no matter how hard or impossible it is, the journey that takes you there ultimately makes you.
The most valuable highlight of this journey was taking Bangladesh to Paris. Last year when I had my show in Paris, it was as a French Graduate in fashion, not as a Bangladeshi designer representing his country. This time, I did what I had dreamt of from the beginning; I took Bangladesh with me, I took the best Bangladeshi models who fit the aura of my collection: Mashiat, Maryam, Taspia & Sheela, I took Bangladeshi model Spriha from Paris as she lives there now. I was very proud to have Azra Mahmood as a part of our team as I believe she should be in the international scene for the talent and capability she has. And most importantly, I took two young fashion graduates Nishan Rahman and Tabassum Mim with me as my associates who worked day and night with me for this collection. They have just started their journey; this exposure will surpass their vision as it once did for me. In my opinion, it's not only about upholding Bangladeshi heritage but promoting our talented people was an important highlight of this journey.
YOUR COLLECTION MADE IN BANGLADESH WAS SHOWCASED IN A TWO-PART TALE ON THE RUNWAY – CAN YOU ELABORATE ON THE STORY AND ITS MESSAGE?
Made in Bangladesh consists of 20 looks and it was split into two phases where the first 10 looks showcased the Weaver's Prophecy, and the last 10 portrayed Culture & Love. This collection was not produced to be a commercial fashion collection; it is an homage to imagining the multiverse where Bangladeshi traditions, literature, culture meets French heritage, history and style.
---
Made In Bangladesh Consists Of 20 Looks And It Was Split Into Two Phases Where The First 10 Looks Showcased The Weaver's Prophecy, And The Last 10 Portrayed Culture & Love.
---
The show opened with lines from Nakshi Kanthar Maath by the great poet Jasimuddin, which then led to the first phase – Weaver's Prophecy. This phase starts by reflecting the root village culture of Bangladesh where it displays blue and green muslin dresses with an embroidery of Bangladeshi village on top, and re-imagined character archetypes of the village such as the farmer (Krishok), the wife (Bou), the poet (Baul), the feudal lord (Jamidar) with an homage to Rabindranath Tagore. This phase of the collection was made with Muslin, Jamdani, Nakshi Kantha, Tangail Tant Sarees. This is where the collection begins to play with fusing Bengali root culture with French fashion. This phase showcased Nakshi Kantha blended with suede leather, a vest made of Gamcha with leather detailing paired with extra flared shredded lungi pants, a corset made of gabardine embellished with a handmade Krisnochura flower. There was a wide use of Jamdani over many different fabrics, including the final outfit of the phase which was a Jamdani Gown.
The second phase of the collection, Culture & Love opened with a recitation from the popular French book Le Petit Prince, then continues to reveal a look inspired by a character from the book. A rickshaw painted quote of Victor Hugo on a top and skirt made of French style tweeds came next, followed by a sequin and jute skirt, a Nakshi Kantha vest with pleated pants, and an homage to our national poet, Kazi Nazrul Islam made of denim. The collection also consisted of a denim long jacket with Charles de Gaulle on the back, and a tribute look to the Father of our Nation, Sheikh Mujibur Rahman where typography of his quotes was designed on a Mujib coat.
The most theatrical part of the show was when I came on stage after our closing look which was a red Jamdani gown with a Nakshi Kantha cape draped on her back. When I entered, the model turned to face me so that I could open the fastening of the cape. As the Nakshi Kantha fell, the words Made in Bangladesh in gold and white pipes were dramatically revealed, shining like stars.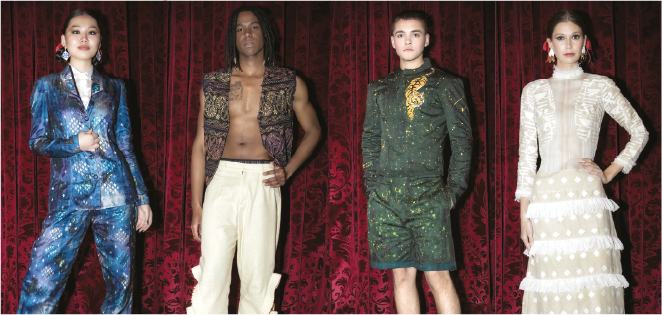 FROM DESIGNING FOR BIG BRANDS LIKE HERSTORY TO CREATING YOUR OWN VISIONS, CREATIVITY IS THE CORNERSTONE OF YOUR WORK. WHAT INSPIRES AND DICTATES YOUR STYLE AND DESIGNS?
Herstory by Aarong is like a home I grew up in. I don't consider Aarong to be just a brand but more of an institution. One can learn from Aarong without even working there. Working for Herstory is a creative journey which has brand value and a meaning of its own. Working on your own collection is also an equally creative journey, but as it is completely independent it involves more risks you have to face yourself. My design aesthetic is always reflective of global fashion and tasteful local infusion with experimentation. I push myself when it comes to research & creativity, which means pushing myself to dive deep into our cultural roots, try to find riches and transform it to a global language through fashion.
THE FASHION SCENE IN BANGLADESH HAS SHIFTED FROM TRADITIONAL STEREOTYPES TO EMBRACE CONTEMPORARY STYLES AND TRENDS – WHAT IS YOUR OPINION ON THAT? HOW CAN WE STAY RELEVANT IN THE GLOBAL CONTEXT AND STILL RETAIN OUR HERITAGE AND CULTURE?
In my last Interview with ICE Today in 2021 I had said, "I believe, within the next 10 years, Bangladesh will be a lot more liberated in terms of fashion and lifestyle."
I am still rooting for that, but I would also like to see preservation. In European countries, you can find both. You can see the heritage at its best because they preserved it well; the timeless, classic and ever inspiring heritage is present yet you will find modern, contemporary and generational interpretations in every era. It is late but we need to understand that that is the key – we need to preserve our roots, heritage and culture, and on the other hand we should let it blend with global cultures, styles and philosophy as well.
---
Herstory by Aarong is like a home I grew up in. I don't consider Aarong to be just a brand but more of an institution. One can learn from Aarong without even working there. Working for Herstory is a creative journey which has brand value and a meaning of its own.

---
In a more metaphoric way, this is what I have to say – culture is like a tree; it has roots but the branches grow with time, which means that if you keep forcing the roots, it won't grow up to be tall and visible. When you let it grow, you won't get good quality fruit all the time – some may turn out to be bad, but that shouldn't be a reason to stop the tree from growing. We have to take care of the roots, allow it to bathe in sunlight, and let it flourish. Only then will it grow tall and if we do it right, the fruit will be sweeter.
WHAT CAN WE EXPECT FROM YOU NEXT? WHAT ARE YOUR PLANS FOR THE NEAR FUTURE?
My core focus is Herstory by Aarong. Besides that, I would like to keep experimenting with designs and collections whenever I get a chance. I would also like to start organising some fashion workshops soon since it's long due.
My future plan is to give back to the Bangladeshi fashion industry as much as I can since I was blessed with so many things like an education in fashion from Paris, working with Aarong, getting global exposure from time to time, and the best family support system possible. I feel that it is my responsibility to work for our community as long as I can because at the end of the day, there's no point of being me without contributing to a greater purpose than me.
Photographs: Fabrice Malard