Sajria Tabassum Proma & Rajiul Islam Shadhin will represent Bangladesh.
Sajria Tabassum Proma & Rajiul Islam Shadhin have been crowned MISS & MISTER CELEBRITY Bangladesh today, 26 October 2023. They will now represent Bangladesh in May 2024 in MISS & MISTER CELEBRITY INTERNATIONAL 2024 to be held in Vietnam.
The winners and the 1st and 2nd runners-up were selected by an esteemed judges panel.
MISS & MISTER CELEBRITY Bangladesh was held as a part of the Arka Fashion Week. Efa Tabassum and Rony Imran, Miss & Mister Celebrity 2023 crowned the new winners.
The winners will now undergo a long and rigorous grooming session as a part of their preparation for the big event next year.
The MISS & MISTER CELEBRITY PAGEANT is a Malaysian Pageant that aims to create a platform for endless boundaries to inspire the eyes of the nation to become 'more than just beauty Kings and Queens'. It is a platform to empower individuals and enhance their talents through the grooming of a pageantry journey on a local and international level.
In Bangladesh, Azra Mahmood Talent Camp (AMTC) is the license holder for the pageant. AMTC also represents India, Nepal and Sri Lanka. AMTC is owned by the celebrity media personality Azra Mahmood herself.  It is an all-inclusive camp dedicated towards a focussed endeavour of transforming models and aspiring models into their world-class counterparts by incorporating years of industry experience and knowledge. Transforming dreams of all men and women into groomed, artistic versions of themselves.
This year Miss and Mister Celebrity Bangladesh 2024 was held on the first day of the Arka Fashion Week.
The six judges of this contest are renowned individuals in their respective fields:
Mehreen Mahmud – A fashion icon and a renowned singer of the country
SK Saifur Rahman – Content Consultant, Haal Fashion Prothom Alo, Fashion Industry Insider, Heritage Textile Export.
Afroza Parveen – Head of Operation, Red by Afroza Parveen
Asad Sattar – Founder at Arka Studio, Director at Utah Group, Aloki
Nibir Adnan Nahid – Model and influencer
Tangia Zaman Methila – Miss Universe Bangladesh 2020, model and actress.
This year there are 16 participants; 8 male and 8 female coming from different walks of life.
Male Line up
Abrar Shahriar Khan from Manikganj, a Student of CSC at United International University
Rafsan Jany from Jessore, a Student of BBA at East West University
Adrian Ahmed Tamim from Feni, a graduate of National University in Chemistry
Roddor Ehsan Ehan from Narsingdi, a graduate of Dhaka College in Environmental Sciences
Raihan Islam Rocky from Dhaka, a graduate of IUBAT in Tourism and Hospitality Management
Hafiz Rahman from Barisal, a student of Civil Engineering from Stamford University Bangladesh
Serajus Salekin Shuvo from Brahmanbaria, a graduate of Adamjee Cantonment College in Marketing
Rajiul Islam Shadhin from Khulna, a student of BBA in Daffodil University.
Female Line Up
Tahmina Anjum Ila from Madaripur, a graduate of Eden College
Sadiya Jaman Sujana from Comilla, a student of BBA at Khilgaon Model College
Vasha Jahangir from Khulna, an A-level graduate aspiring to become an Artificial Intelligence Engineer
Afla Amran from Bhola, a student of Finance at IUB
Israt Jahan Panna from Netrokona, a graduate of Netrokona Degree College
Jannatun Adon from Dinajpur, a student of Civil Engineering at North South Univerity
Mst Nihar Niha from Bogra, a master's graduate from Rajshahi College
Sajria Tabassum Proma from Bogra, a student of Psychology at Eden Mohila College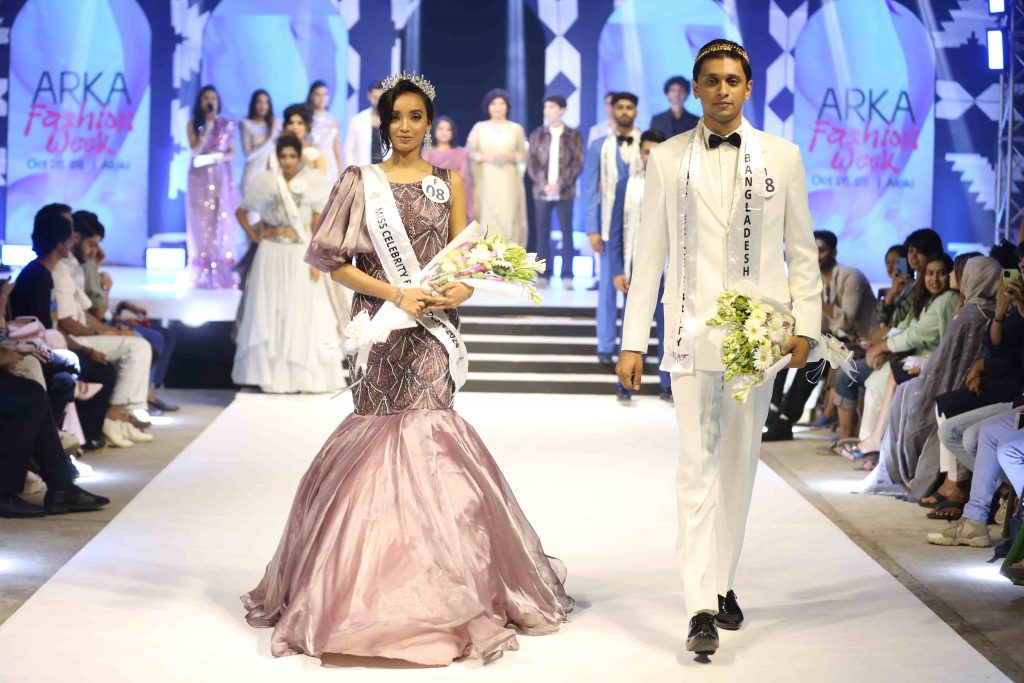 The ultimate goal of Miss & Mister Celebrity Bangladesh is to take our models to the international platform to showcase their talent along with Bangladesh to the entire world.
Winners
Sajria Tabassum Proma & Rajiul Islam Shadhin
1st Runners Up
Vasha Jahangir & Serajus Salekin Shuvo
2nd Runners Up
Tahmina Anjum Ila & Rafsan Jany