A well-executed colour story with the right elements can help you rejuvenate your spaces and build an instant connection.
Here are some tips from ISHO that will help you bring colour into your space with accessories & beyond.
With the daily hustle of life, we often find ourselves settling into a monotonous routine, looking for ways to rejuvenate our spaces that become an extension of our personalities. Choosing the right colours for our spaces, furnishings, and accessories is vital as they impact our overall well-being and have a soothing effect on our everyday mood. Creating a personalised colour story brings your design vision to life as you use colours to evoke different emotions and is also an economically more innovative way to breathe new life into familiar spaces.
A Tranquil Nook with Shades of Blue
The perfect colour story doesn't have to feature various colours. Using several shades of the same hue translates into harmony within your space. As seen above, a serene combination of blues and greys with rustic ceramics and woven patterns can bring a welcoming vibe and calm your space. Flaunt this cohesive colour palette with fabrics and textiles such as patterned rugs and cushions, and inject texture using vases and pottery in different shapes to decorate the corner.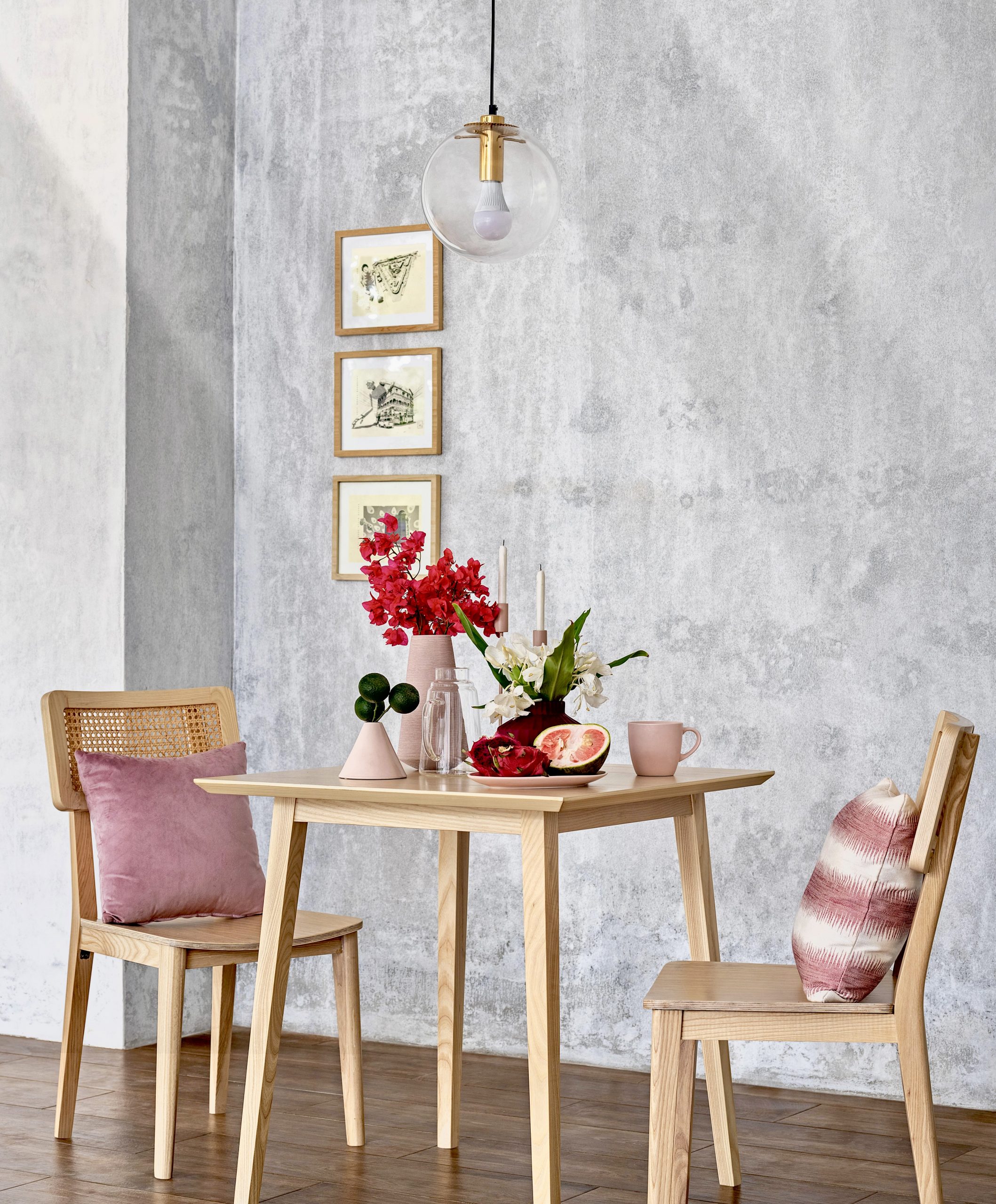 A Dinette Dipped in Pink
If you're going for a more classic and timeless look, pick a neutral colour palette with hints of vibrant hues. As captured above, with light-coloured wood as the main feature, a subtle gradient of soft pinks and vibrant reds have been introduced, complemented by geometric accessories that lend a classic sophistication to this dining setup. Flowers arranged in a vase or fresh fruit clustered in a ceramic bowl that follows the same colour gradient can add volumes of colour to any space and add to the overall colour story. Add a layer of art with small frames of artwork in neutral colours to lend personality to the composition.
A Reading Corner with Earthy Tones
Another way of creating visual interest is by grouping together earthy tones that complement each other and showcasing them through quaint vases, throws, ceramics and a range of miscellaneous eclectic finds to add layers of vibrancy. In the above photo, shades of brown paired with greens and topped up with marblesque patterns that belong to the same palette bring a rustic earthiness to the interiors.
Selecting from various colours and patterns can be a lot of fun and a great way to give your space that updo while keeping affordability in mind. And the best part? You can always change things around and rearrange accessories to create an oasis of bliss within your space.
Photographs: Courtesy of ISHO
For More information, please visit: https://www.isho.com/