With innovative offerings, ISHO increases sales by 90% in the last quarter
Having just achieved 800 – 900% growth in online sales during the EID holidays, it would come as a surprise to most that Bangladesh's newest furniture brand is just a year old. The many milestones that ISHO has achieved in such a short span of time are a testament to the founding philosophy and to the relentless pursuit of disrupting and bringing much-needed innovation to the furniture industry.
ISHO, was first conceptualised in 2017 and the company's mission was clear from the very beginning and rings true amongst its 150 plus employees today – to reinvent the use of spaces and create unforgettable experiences for people in their daily lives. After two intense years of researching the market thoroughly from customer behaviour, individual tastes and preferences, to which and what design aesthetics and concepts would work in the country market, ISHO officially launched its e-commerce portal on 25th May 2019.
On that day, ISHO starting off with 8 collections on display with 150 products and fast forward a year; the company has over 600 products that are spread across 14 distinctive categories. What has remained constant though and is central to its core proposition in the years to come is all of ISHO's collections and furniture designs are inspired by global locations and design nuances.  To top it off, what ISHO's customers get to see today, is over 30 collections along with a number of products that no other furniture company has thought of introducing locally.
Rayana Hossain, Founder and Managing Director ISHO, recollects the initial days, "We researched and analysed the market for two years before we launched. From focus groups to understanding cultural sensitivities, we went through a rigorous process of product design and evaluation. We wanted to understand how people live and use their spaces and that forms a key component to our company DNA."  
Today, there's a lot to talk about apart from its unique furniture. From its in-house Design Studio which offers customers end to end design and interior solutions, to the incorporation of technology in its smart series products, to its commitment to sustainability with its Satranji collection, to its unique customer service and finally to the introduction of DormBox a unique co-living concept. The fact that ISHO is a vertically integrated business means that the company is prepared to undertake projects right from the initial concept to delivery.
Appreciating and understanding traditional buying behaviour, where people would prefer to go to showrooms and buy their furniture, ISHO decided to offer a 1-hour free trial for any product that's delivered. This, Bangladesh-first, initiative thus gives more power to the buyer where they can see how the product looks in their space before even purchasing it. Till date, no products have been returned as a result but this just goes to illustrate what ISHO priorities are with their customer-first approach.
This philosophy is also reflected, on ISHO's website and various marketing initiatives. Engaging creatives across Instagram and Facebook form the backbone of the company's communication and exclusive offers on special occasions such as the EID holidays and Valentine's are complemented by a customer-friendly and an easy to navigate website. Right from the look and feel, there is a conscious decision to achieve standout by putting out engaging content and a welcoming narrative.
Rohan Srinivasan, Head of Marketing and Communications ISHO says, "It comes as no surprise that we've been one of the most talked-about brands in Bangladesh over the past year. We are constantly trying to reinvent how the furniture is perceived which is reflected in all our outreach and marketing efforts. To our customers, ISHO is instantly recognized as a vibrant, innovative and informal brand that has great product designs!"
ISHO's store, which opened in Baridhara in November last year, is further testament to how far the brand has come. The state-of-the-art store which is spread across 20,000 square feet is one of the largest in the city. Comprising of eight different floors, where each floor is dedicated to a particular room, it offers customers an unrivalled experience.  This experience is also accentuated in the form of how the brand goes about its sales and after-sales operations. Particular attention is paid to ensuring customers get advice on furniture options when buying and also giving feedback on ISHO's service is encouraged.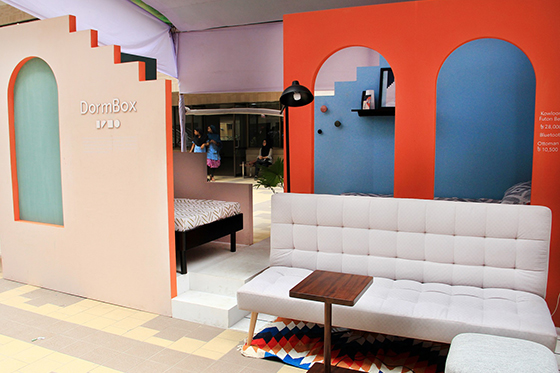 Firoz Al Mamum, Head of Business, ISHO says, "ISHO was started with the aim of bridging the gap within the furniture industry and meet the demands of the customers in the most efficient way. Our focus, in the past one year, has been on exposing our customers to international standards of design and manufacturing and we hope to continue disrupting the industry with our products."
Other visibility milestones include participating at this year's DITF 2020 where ISHO was also awarded the Best Pavilion Award. Hridoy Khan launched ISHO's Bluetooth Ottoman at the event which remains a best-seller product given its smart adoption of technology in design. ISHO also participated in last year's Dhaka Literature Festival where the team brought to life five fictional worlds from popular novels like 'Nastanirh', 'Pride and Prejudice', 'Tron', 'Harry Potter' and 'Sadako and the Thousand Paper Cranes'.
The year also saw the introduction of DormBox, an innovative concept that addresses the use of space in co-living spaces. The concept offers students and young professionals an affordable option of living apart from hostels and semi-furnished rooms that are the norm. ISHO launched DormBox at North South University and it was very well received given the fact that it directly addresses the issue of living accommodation across the country.
As ISHO steps into its second year, there's a lot celebrate. In the absence of a face-to-face celebration, limited edition t-shirts are being given to all employees as well as gifts to everyone. The plan in the coming days is also for all employees to take part in a townhall style video call where employees will be given a chance to win some fantastic prizes.
M.M.A Yeasin, Head of Human Resources, comments on the celebrations and activities planned, "Today, as we complete one year at ISHO, we have already managed to emerge as industry leaders and work with some of the best talents that the country has to offer. With a strong vision, effective leadership and an ambitious team like ours, we look forward to many more years of growth and success."
COVID has of-course been a dampener for everyone but spirits are high and the management remains optimistic that better times are ahead. Apart from new collections being planned and potential domestic expansion, the entire team at ISHO remain optimistic that international markets could be the next frontier for this ambitious and disruptive company.
Rayana Hossain, Founder and Managing Director ISHO, on reaching this milestone and plans for the future, "Celebrating this milestone is just the start and hopefully, there will be many more celebrations to come for all of us. The last few months have definitely been very challenging but we're all optimistic that there's a bright future ahead. Our most recent online sale resulted in our highest ever number of orders which bodes well for the future. It also shows us that we're doing something right!  In the coming months, we plan to launch some really exciting collections, and also explore various avenues to expand our business."