Well into the millennium, our world is faster than ever before. In this rat race called life, it's our health that must work around our busy, cutthroat schedules. Realising this, ICE brings you a quick A-Z of health to help with your overall well being and happiness.
Acroyoga
Combining acrobatics with yoga, this relatively new practice in the field of general well being is designed to cultivate trust, compassion and life balance. If you are a practicing yogi or an acrobat, this may be something new for you to venture out into.
---
Bengay
Readily available at Prescription Aid, Banani, Bengay is primarily a cluster of pain relief rubs of different kinds. Under their umbrella are- Bengay Cream, gel, cold therapy and ultra-strength bengay pain relieving patch, among others.
---
Calcium
Women need more calcium as they age. If dairy isn't really your thing, artificial supplements like Centrum Silver Women, available at Prescription Aid and LazzPharma will help to give your heart, eyes and bones the much needed boost.
---
Dates
Nothing less than a superfood, dates help with everything from weight loss to easing stomach ailments and even pregnancy deliveries. It also helps with respiratory problems and lowers the risk of heart disease and hemorrhoids. Work it into a paste, infuse it into your morning water or simply chow down a few of these delicious morsels for a taste of natural, blooming health.
---
Vitamin E
Want great hair? Pop a capsule of this antioxidant rich oil into your regular hair oil. Want good skin? Use a cream containing Vitamin E. Not simply for aesthetics, this wonderful nutrient reduces the risk of strokes by acting.
---
Flaxseed Oil
Available in bottled form at Dhaka Dough, flaxseed oil is high in fiber, Omega 3 fats and anti-ageing properties while also having a low carb content. A gel forming fiber that helps with digestion, fat loss and menopause related problems, you can mix it with your smoothie, gulp down a spoonful or mix it with essential oils for a DIY skin moisturizer.
---
Green Tea
Loaded with bio-active compounds, green tea makes you smarter, boosts metabolism, lowers the risk of breast and prostate cancer, Alzheimer's and Parkinson's disease, diabetes and coronary diseases, helps with dental hygiene- basically the king of all teas, period.
---
Hydrogen Peroxide
Found in any drugstore around you, this germicidal agent can be used for dental care, fungal skincare, insect bites and even hair lightening!
---
Infused Waters
Not simply a fad, fruit infused waters are known to make your skin supple and glowing, regulate body temperature, counteract dehydration effects caused by caffeine and increase energy levels.
---
Jojoba Oil
A waxy substance, jojoba oil is a natural moisturizer that gets completely absorbed in the skin. It can be used as an oil controlling agent and its antibacterial properties can heal acne and eczema. You can also use this for chapped lips and heels, as an anti-frizz and anti-hairfall hair oil. Try Gulshan-1 DCC market for this product.
---
Knee Braces
Knee braces are a supportive device for those with knee injuries and for those who want to prevent one. You can buy them off the counter or have them custom made with the help of your orthopedist. However, do remember to involve your doctor in your decision to wear this- not every knee injury requires it!
---
Laughter
Apart from this being a free exercise for the abs, laughter therapy also lowers blood pressure, reduce stress hormone levels, improves cardiac health and helps release endorphins (your body's natural painkillers). So laugh your way to health!
---
Marigold Oil
An unsung hero this one, but oh so effective- marigold oil can be used to treat sunburns, body odor and arthritis pain. It can also ease varicose veins. Who knew?
---
Nigella Seeds
Healing properties in Nigella seeds help with asthma, sore throat and even in the prevention of cervical cancer. It is frequently known as the black seeds which are the cure to all diseases except death!
---
Oil Pulling
Putting one teaspoon of coconut oil in your mouth and swishing it around has more dental benefits than people give it credit for. It pulls out bacteria from the mouth, gets rid of bad breath, heals gums and whitens teeth. It's an acquired taste, sure, but the benefits are too good to let go.
---
Povidone Iodine Solution
Caution-This one stings. Simply used as a strong antiseptic, it is a prescription drug that should not be used without taking proper medical advice. Not everyone is born with a strong enough willpower to apply it on their own wounds, but if prescribed, use a friend's hand as a scratching post.
---
Quinoa
Super food of the future (or now), Quinoa is a grain that is loaded with protein and contains twice as much fiber content as any other grain. It also contains iron and lysine that helps with tissue growth and repair. It is a rare find in Asia but you may want to try your luck at Unimart!
---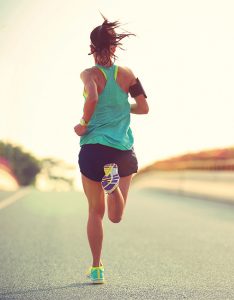 Running
Simply starting your day with a light jog can give your metabolism a much needed boost. Running can also help with stress reduction and migraines, is good for skin and makes for stronger bones. It can also make your brain and your hearing sharper. Now that's what you call a hop, skip and jump to great health!
---
Seaweed Wrap
Done at Prive, Gulshan 1, seaweed wraps detoxify your body, tighten skin, remove dead skin cells and help reduce cellulite. A tad bit expensive, but totally worth every, slimy, bit!
---
Travel
No surprises about the amazing health and overall wellbeing benefits travelling poses. Learning self-dependence, broadening your mind and opening up your heart to new cultures and sights will cure your mental fatigue like no spa treatment ever will!
---
UV Rays
Ultraviolet rays are infamous for the horrible way they treat not just our skin but also our overall health. Sunscreen is one way to keep these notorious beams off you but one other thing that does wonders, is a classy pair of sunglasses!
---
Vagisil
An over the counter topical cream that relieves vaginal itching in women, Vagisil is available in regular strength and maximum strength. While this cream may be a relief for many, it is not advisable to use Vagisil for more than 4 times a day.
---
Wheatgerm
Once more, an active immune system booster, wheatgerm also reduces the risk of  diseases like cancer and diabetes. Its folic acid content is especially good for pregnant women. A healthy amount of wheatgerm in your diet will help you lead a well-balanced diet.
---
Xanax
Not an over the counter drug in any way, Xanax is an anti-anxiety pill, meant to prevent panic attacks and to act as a tranquilizer. Don't be popping them left and right but adhere to the doctor's prescription at all times.
---
Yogurt (Probiotic)
Activia by Dannon and Nestle'sActiplus are probiotic yogurt brands found in certain branches of LazzPharma, Dhaka. Good for digestion and known for the healthy source of calcium that it is, probiotic yogurt is good for brain related illnesses and even regulates moods.
---
Zymet
A nonprescription drug, Zymet is great for extreme acidity. One pill can decrease the presence of undigested food, reduces abdominal pain and fixes malabsorption. Basically, if your tummy is hugely upset, Zymet can be its anti-depressant!